The Mobile Sewing Company 
Using classic Dutch bicycles, antique sewing machines and some borrowed people power, these handy ladies will upcycle your clothes in the most imaginative and beautiful ways. Hand in a piece of clothing to be transformed into a work of art right before your eyes or sit back and enjoy the show.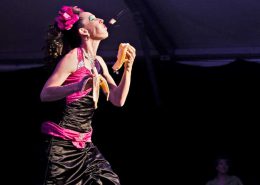 Las Vegas lounge meets 80s pop melodrama as Marc and Svetlana Buttarsworth host a fantastic line-up of cabaret in the grand ol' Fremantle Town Hall.